Correx is the ideal material for the manufacture of multi journey containers and trays and it is good for short or long term cold storage. It can have a variety of additives to make it Antistatic, Flame Retardant and UV Resistive.
Benefits
Extremely long lifespan
Stackable
Cleanable
Oil, grease and dust resistant
Recyclable
Our Correx is fibre and dust free, chemically and biologically inert, easily cleaned and sterilised and not affected by moisture.
We have produced containers and trays for the Retail, Automotive and Pharmaceutical Industries and would be happy to discuss your requirements
---
Correx trays
Our correx trays used in the ice cream section of a supermarket to promote a top of the range brand of real fruit ice lollies.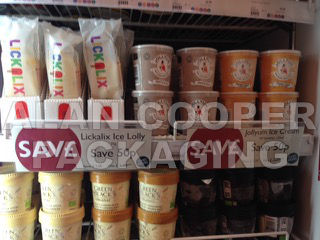 ---
British Airways Luggage Checker
If your bag fits…………..you're ready to go!
---
Correx picking and storage bins
A range of bespoke picking and storage bins for well known high street lens provider, with a sloping front for easy access.
Contact us with your requirements and we'll happily quote you.
---

Working closely with a partner, Rubbish Ideas (a circular economy design consultancy ), together we successfully designed three bins for the collection and recycling of used paper cups.
---

SIZE 1920 x 280 x 285 mm
HOLDS APPROXIMATELY 140 x 6ft TUBES
CONSTRUCTED FROM HEAVY DUTY CORREX
HIGHLY DURABLE
MULTI–TRIP / RE-USABLE
SAME SPECIFICATION AS THE 6ft COFFINS
SIZE 2520x280x285mm
HOLDS APPROXIMATELY 140 x 8ft TUBES
Please contact us for details
---
STORAGE / PICKIN BOXES
Available in following sizes :
595x375x238 mm
595x375x300 mm
600x500x300 mm
1000x375x300 mm
We can also make to your specific sizes, just go to contact page and ask us for prices for these or any other requirement you may have.
Cut from heavy duty correx, these storage / pickin bins are delivered flat packed and are easy to assemble. They have the flexibility to be stacked as high as required which does away with expensive racking .
As can been seen from the images, tabs at the top locate into slots at the base keeping them stable. There are also holes where cable ties can be threaded to tie the stacks together to offer even more stability.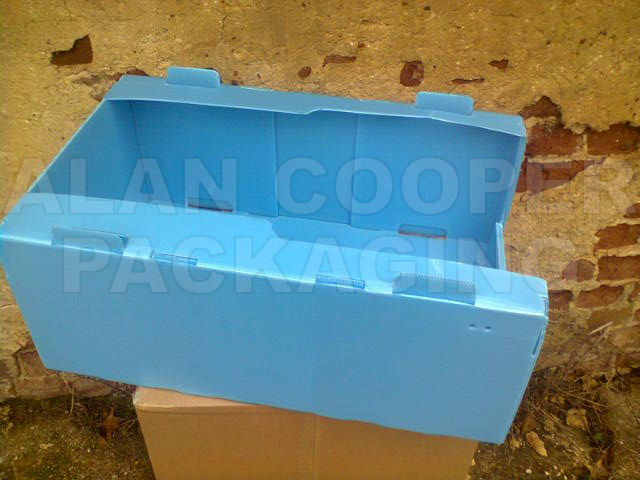 A slightly new variation with larger holes, size of this box 600x400x200 mm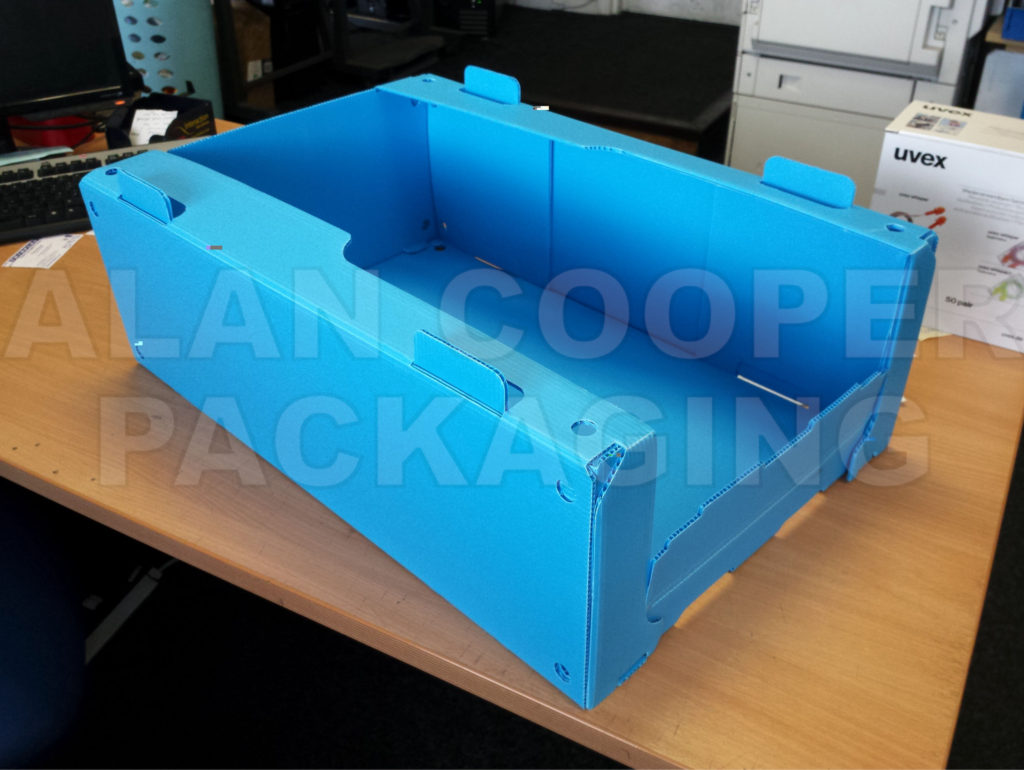 Another Storage Solution.
---

New product, a one piece stacking tray, more economical than the conventional stacking tray. Delivered flat on pallets, saving a huge amount of storage space and significantly reducing your carbon footprint.
---
CLEAN ROOM BOXES
Eco-friendly correx box with lid. Complete with divisions for a pharmaceutical client for use in a clean room environment.
---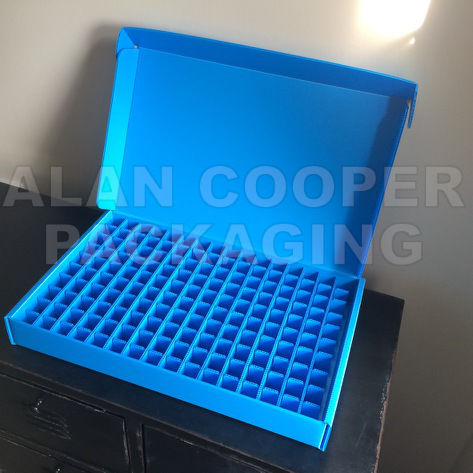 ---
---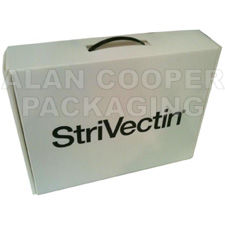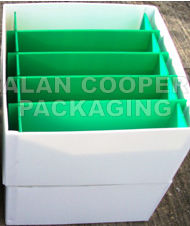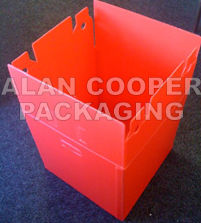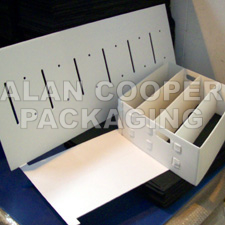 Multi-trip transit box for PC Tower

The box on the left is a custom designed box designed by request from a client. The Client's brief was to provide a multi-trip pack that affords maximum protection to a PC Tower whilst in transit.

The box is manufactured from fibre and dust free Correx. Correx is not affected by moisture and provides maximum life-span while being recyclable.

As can be seen from the images, packing the box is easy with the custom designed foam inserts.



---
Installation
One of several bespoke installations for a major film company's laboratory.
---